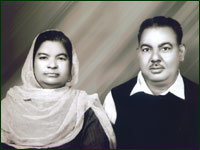 Swastik Pesticides
Limited was established in the year 1973 by the great personality and our biloved
late " Shree Om Prakash Singhal Ji".
Swastik Pesticides Limeted is a profession Pesticides and Agro Chemicals Company and we are the manufacturers of India. The products of our Company are widely sold in every cornor of the country.Swastik Pesticides Limeted is enjoying the high reputation because of its high quality with competitive Prices, solid and sound services to its customers. The Company is having is own good technical experts, advanced testing devices, apparatus and instruments and strick control are the strong back-up and grarantee for it.
We have five manufacturing plants :
• Where al the EC and sL products are manufactured.
• Where all the D.P.products are manufactured.
• Where al the W.P. & WDP products are manufactured.
• Where all W.D. & W.D.G products are manufacts are manufactured.
• We have two granulator plants where all the Granules pesticides are formulated.
At present the company is manfacuturing 175 Pesticides and Agro Chemical Products in different packings per demand of the market and is competing in the market with the multinationals and the turn- Over of the Company has gone uoto Rupees 100 Crores. As during the starting days the Company has its own Branch Offices and Depots in every State of the Country. We have a tie-up with the American Company M\s Wholesale Buitech Suply inc, Wixion, Michigan U.S.A. to have modern and latest tedhnologies and know-how about the pesticides products. Presently the Company is being managed by the Young, Dynamic and Labouious Managing Director Shri Ravindrar Kumar Singhal who has his colse eyes on every departments of the Cmpany like, Administration, Procurement of the Raw Material, Timely supply of the material and specially the Ouality of the Products, which have provided the fruitful results. Our Products are sold now a days in the every corner of the country and all this is beacuse of the hard efforts of Shri Ravindra Kumar Shinghalji and the Company is about to achieve its macimum goal. More-over our customary products are ISI Marked which itself is the symbol of Quality.
The Company is very much conscious for the environment and is abiding wirh all the Rules and Standards prescribed by the Pollution Control Board. In addition to the above we have ISO-9001-2000 and ISO14001-2004 Certificates, The main Motive of the Company is to provide best products at very competitive at the earliest possible time.